Back to all posts
Posted on
Principal Message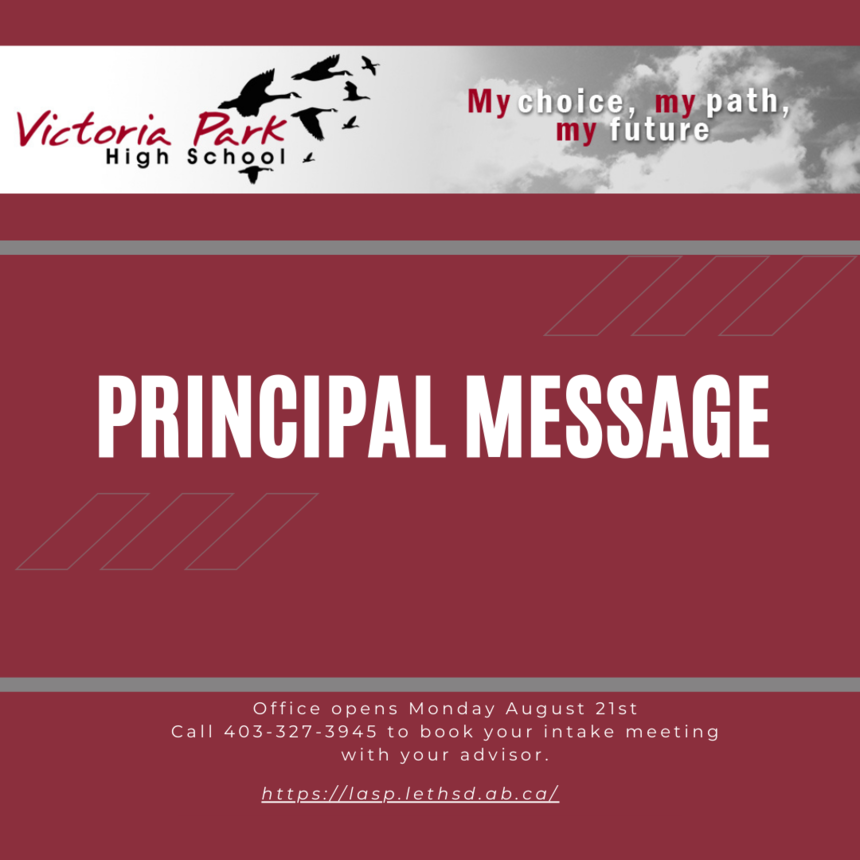 Dear Victoria Park Students and Families,
Welcome back to many and welcome here, to many more!!! It has been a whirlwind of a start up and while we are bursting at the seams in some areas, we are delighted to support the humans we have in the building and involved in our DL programs! Thank you for a strong start to the school year.
We would like to take this opportunity to remind you of a couple of important information pieces:
· IN PERSON CLASSES BEGAN ON SEPTEMBER 11TH AT VICTORIA PARK
· Classes are up and running in full capacity
· If you are looking to take another class or change your current one, please reach out to your advisor directly.
· If you are a returning student and have not already booked an intake meeting with your advisor, please call the office to do so (403-327-3945). Advisor intakes are completed for every student, regardless of whether they have attended our school in the past or not.
o During these meetings we will connect with you and a guardian, review your high school plan, choose your courses for the coming year, and answer any unique wonderings you might have.
o Intake meetings are necessary whether a student is enrolling in Distributed Learning (DL) Courses or in-person learning.
Should you have questions about the exciting year to come, please don't hesitate to reach out to the office or to contact your advisor directly. We look forward to seeing you soon and know that together, we will find success as you move toward your preferred future.
Cayley King
Principal
Victoria Park High School and Lethbridge Alternative Schools & Programs Pronouns: she/her/hers Lethbridge School Division
VPHS Mission: To provide genuine alternative school experiences to support students as they move toward their preferred future.
VPHS Vision: Students move forward on their individual path, connecting value and purpose to their choices.