Back to all posts
Posted on
Navigating Mental Illness in Children and Its Impact on Parenting: Struggles, Hopes, and Triumphs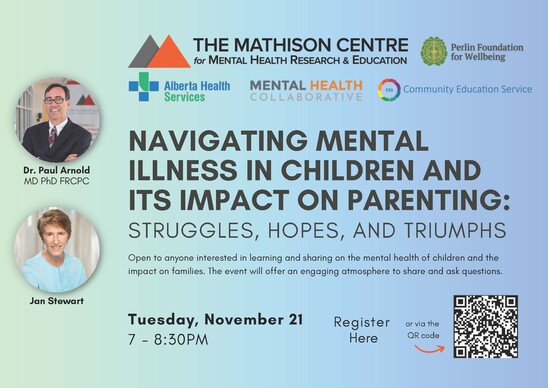 This free, online event aims to provide valuable insights into the challenges faced by parents dealing with mental illness in their children, as well as the strategies and triumphs that come with navigating this complex terrain.
Date & Time: Nov 21, 2023 07:00 PM
The Mathison Centre for Mental Health Research & Education is leading a collaborative event with CES and the Perlin Foundation for Wellbeing featuring author and mental health advocate Jan Stewart and Dr. Paul Arnold to share the lived experience and research insights on families of children with mental health challenges. The mental health of members of the family unit is interconnected. Mental illness in children can affect all areas of family life and often lead to depression, anxiety and related challenges for caregivers which can subsequently adversely impact the mental health of children. This event is open to anyone interested in learning about and sharing the mental health of children and the impact on families. The event will offer an engaging atmosphere to share and ask questions.